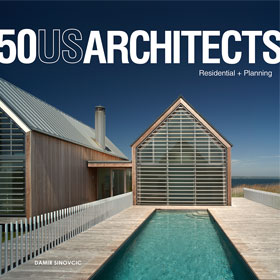 $59.00
Buy Now
Bundle and Save!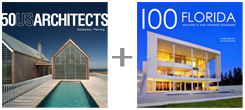 Order 50 US Architects and
100 Florida Architects and Interior Designers
and get $10.00 off plus free shipping!

Reg Price: $104.00
Your Price: $94.00
Get Both Now!
50 US Architects: Residential + Planning
Written by Damir Sinovcic
SPECIFICATIONS
Dimensions: 11 in. x 11 in. x 2 in.
Pages: 336, color
Format: Hardcover with dustjacket
ISBN 13: 978-1-936344-04-8
ISBN 10: 1936344041

INSIDE THE BOOK (excerpt)

50 US Architects: Residential + Planning is published by Design Book and is written by Damir Sinovcic, editor of Design Book Magazine and 100 Florida Architects & Interior Designers book.

This informative and beautifully illustrated, 11" by 11" hardcover book presents a curated collection of award-winning residential and master planning work from leading American designers. Meticulously detailed and site-specific, the featured projects focus on sustainability, technology, and the human spirit. They reflect ideologies and philosophies that are rooted in the modernist doctrine or distilled from vernacular precedents.

From Alabama to Wyoming, each state in the country is represented with designs that are intended to showcase a sense of place through concept, craftsmanship, and material selection. Demonstrating a profound understanding of local history, natural environments, regional traits, and other site-based factors - such as climate, light, views, and topography - these projects skillfully and creatively reflect their physical and cultural milieus. While individually they express the character of a specific geographic setting or state, together they form a contemporary portrait of exemplary American residential design.
FEATURED FIRMS
| | |
| --- | --- |
| Alabama | Dungan Nequette Architects |
| Alaska | Barnes Architecture, Inc. |
| Arizona | Robinette Architects, Inc. |
| Arkansas | Architects 226 |
| California | Nest Architecture, Inc. |
| Colorado | Studio B Architects |
| Connecticut | Roger Ferris + Partners, LLC |
| Delaware | Robert Gurney Architect |
| Florida | Guy Peterson | Office for Architecture |
| Georgia | Philip Babb Architect |
| Hawaii | Architectural Design and Construction, Inc. |
| Idaho | Susan Desko, AIA |
| Illinois | Solomon Cordwell Buenz |
| Indiana | Bamesberger Architecture |
| Iowa | AKAR ARchiTecture |
| Kansas | Rockhill and Associates |
| Kentucky | Omni Architects |
| Louisiana | Architects Southwest |
| Maine | Bruce Norelius Studio |
| Maryland | Shinberg.Levinas | Architectural Design |
| Massachusetts | Schwartz/Silver Architects |
| Michigan | McIntosh Poris Associates |
| Minnesota | ALTUS Architecture + Design |
| Mississippi | Duvall Decker Architects |
| Missouri | Clockwork Architecture and Design |
| Montana | Intrinsik Architecture |
| Nebraska | Randy Brown Architects |
| Nevada | Dennis E. Zirbel, Architect |
| New Hampshire | Watershed Studio Architecture |
| New Jersey | Midouhas Architecture |
| New Mexico | Environmental Dynamics, Inc. |
| New York | Bade Stageberg Cox |
| North Carolina | The Architectural Studio |
| North Dakota | JLG Architects |
| Ohio | Robert Maschke Architects |
| Oklahoma | ONE Architecture |
| Oregon | Giulietti Schouten Architects |
| Pennsylvania | Moto Designshop Inc. |
| Rhode Island | 3SIX0 |
| South Carolina | Christopher Rose Architects, PA |
| South Dakota | SALA Architects |
| Tennessee | Hefferlin + Kronenberg Architects |
| Texas | Overland Partners | Architects |
| Utah | Rob E McQuay Architects & Associates |
| Vermont | Birdseye Design |
| Virginia | Hays+Ewing Design Studio |
| Washington | BC&J Architects |
| West Virginia | Grove & Dall'Olio Architects, PLLC |
| Wisconsin | Bruns Architecture |
| Wyoming | Carney Logan Burke Architects |